Ghosts online
Mar

24

2008
Every Halloween, haunted attractions pop up around the Valley designed to give a good seasonal scare to the people who dare to go through them. One attraction that is still haunting the memories of the many who went through it is the "Scream If You Can" attraction at the old Clovis Hospital and Sanitarium on Clovis Avenue. Lots of people claim that there were just as many real spooks inside the attraction as there were fake, adding a new dimension to visiting a Halloween "haunted" house. The attraction has been closed since 2004, but the building still stands on Clovis Avenue as a reminder of the chills and terror that scared thousands over the years "Scream If You Can" operated.
Todd Wolfe is the owner of the property. He plans to develop it into a hotel to be called Wolfe Manor. The house will renovated and used as part of the hotel along with a new structure that will be built in the middle of the property. Since the closure of "Scream if You Can," though, Wolfe says he has be plagued by break-ins and vandalism on the property. While discussing the situation with police, it became evident that people really seemed to want to get into the house and the idea for estate tours began to take shape. While monsters do not jump out at you as you walk the halls and there is no creepy music to set the mood as there was in the "Scream If You Can" days, the estate tours allow people to visit the house in small groups.
"The tours started about 1 1/2 years ago," Wolfe says. "They're private tours, you have to have a reservation. People come in for different reasons. Some come in for the architecture. Most come in to have an experience. Many come in to be mini-paranormal investigators."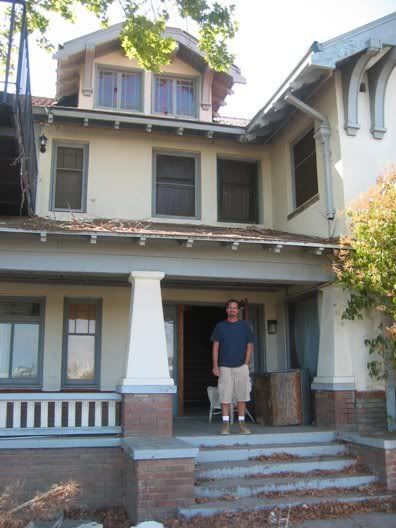 Todd Wolfe stands before his haunted house.
Jennifer Dooms has had experience as a paranormal researcher and she toured the house. She found the place fascinating and couldn't wait to return.
"I asked Todd to call me if you he ever needed help and he did," she says. "It was around Halloween and the phone was ringing off the hook."
Part-time paranormal researcher Terry Campbell joined Dooms in giving tours. They were soon joined by Scott Gruenwald, who'd taken a tour and also been captivated by the place. And from the tours grew "Haunted Wolfe Manor LIVE," a weekly paranormal investigation of the house broadcast live online.
"Terry and Jen and I were sitting around after a tour one night and we thought, how cool it would be to do a show from here," says Scott Gruenwald. "We'd seen 'Live SciFi' and some of the other Web shows and all we needed was some technical guys."
Aaron Lipinski and Brandon Smelser happened to take a tour not long afterwards. "I've always had a fascination with paranormal stuff," Smelser says. "One thing we'd always talked about was going to the Wolfe Manor. So, we signed up for the tour and met Jen."
Lipinski and Smelser were fascinated with the house. They proved to be very tech-savvy and thrilled about the prospect of being a part of a Web show based in the house. Sean Hesse, who has known Lipinski and Smelser since high school, completed the team when he signed on in February.
"We kind of all pulled together to see what stuff we had," Lipinski says. "We started using Sony handi-cams, infra-red cameras, infra-red lighting."
The first show was done with a $6 Web cam, a laptop with a phone card. "And you know what? It was a really good show," Gruenwald says.
They had 13 viewers that first test show. "But if we only have one viewer, that's still a show," Gruenwald says.
Ratings have never dipped that low. In fact, by the fifth show, there were 1,200 people logged in watching. For that show, February 10, the group says that from 7 to 7:20 p.m., they rated as the No. 1 show on the Web for that 20 minute period.
"The biggest thing on TV right now is ghost hunting shows," Wolfe says. "They're getting bigger and bigger and bigger. We're treating it as a television show even though we are doing it live."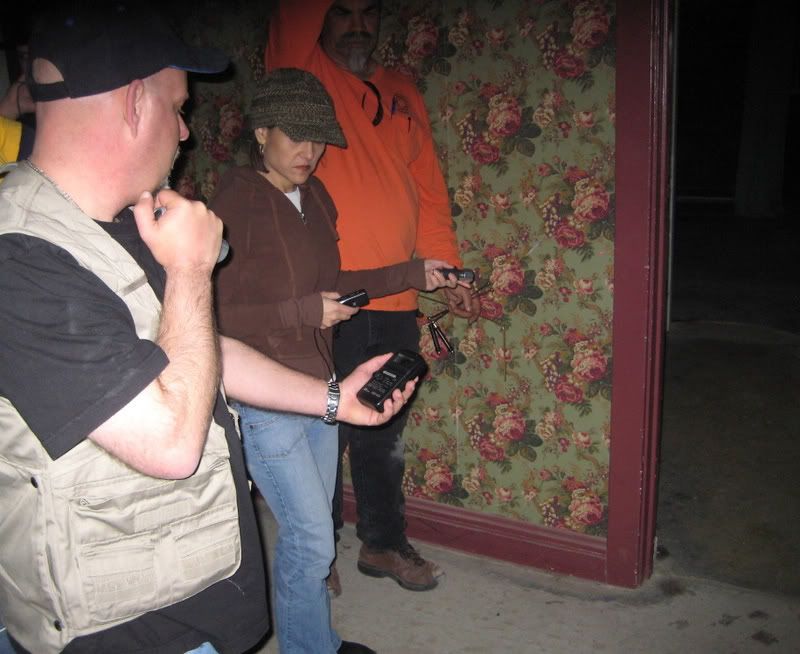 Terry Campbell, Jennifer Dooms and Scott Gruenwald during an investigation on "Haunted Wolfe Manor LIVE," the Web show that is broadcast weekly from the house.
Unlike most other paranormal shows on the networks or online that visit various haunted places around the country, "The Wolfe Show" keeps the focus in and around the house on Clovis Avenue only.
"We found out as we've been going along, that the house is only so big," Campbell says. "People were saying that we're going to run out of things to do the show about."
But the crew have kept "The Wolfe Show" fresh by thinking up new angles -- such as using music to stir up the supernatural -- or by having visiting paranormal groups or other guests on the show.
"Every group that comes in is unique and they have their own unique methods of doing things, so it's different every time," Campbell says.
The show has hosted everything from psychics to Father Andrew Calder, the Anglican priest who has appeared on "Paranormal State" on the A&E network and who started the Georgia Paranormal Research Team.
"My whole idea about having him on was because I've had a lot of people ask me about the paranormal and religion and how that all fits together," Dooms says. "I just think we need to educate people."
"We also like people who are complete skeptics to come on to make it a more rounded show," Hesse says.
"We kind of hand pick who we want on the show," Dooms says of trying to keep the program fresh and interesting. "When we brought in Spirit Seeker Investigations from Anaheim, Mike Loop and Robin Ritter were extremely sensitive. They picked up on a lot of the spirits as soon as they walked in the house. They also were able to record 17 different evps (electronic voice phenomena)."
Skeptics and nay-sayers are welcome to log in and chat during the show along with believers and the curious. While anyone is welcome to book a tour and bring whatever paranormal investigating equipment they care to to debunk or prove any of the house's many mysteries, the Web show is designed to give viewers an unrehearsed, unscripted look inside the house -- often enabling the viewers to dictate where the team investigates and which piece of equipment they use.
"What we are doing is trying to bring everyone from the outside in to the Wolfe," Gruenwald says. "We share everything. We bring in all of the paranormal groups we can, we share our equipment with them. And we still have those groups who think, 'I'm not doing that show. They'll see what kind of equipment we have.' That's ridiculous."
Hesse says, "The way I see it, anyone that's going to hide their equipment is pretty much holding smoke and mirrors. They don't want you to see it because they have a trick up their sleeve. There are no tricks here. It's all just what you see."
"We're all very objective," Lipinski says. "We've never generated anything to make drama. It's all authentic. I want to make sure that's understood.
"We debunk as we go or try to," Gruenwald says.
"There are little things that have happened that you have to look at with raised eyebrows," Hesse says.
Some of the things that the group has encountered on the show or during a tour are a woman's voice singing, mist, moving shadows, light globes coming off of the wall and feeling the sensation of being touched or pushed when no one was there. The house is also supposed to have its share of entities, such as Mary, Angry Man, Wall-Kicker, Singing Woman, George, The Child, Heart-Attack Man and others.
"I had this lady come through on a tour who was in the paranormal closet for years," Gruenwald says. "She's a medium. She didn't want anyone to know about this ability of hers. Well, now, it's the cocaine of the new millennium, this paranormal stuff. She came out here and she brought stuff out about the house that I'd never heard. I was more scared that night than I've ever been before, because of the stuff she was telling me about the house."
The house also has many rooms that the group says give off weird vibes. There's the 13-window room, the parlor, the basement, Mary's room and the "Heart-Attack" room. There's even a third floor which is not part of the tour and only recently opened for the show for a special episode.
"It's a different atmosphere up there than the rest of the house," Gruenwald says. "There's a lot of weird energy up there."
"It's very quiet," Campbell says. "It's weird."
Cheryl Hicks of Clovis watches the Web show and has been to tour the house five times. "I got my leg brushed down in the basement," she says of an encounter she had.
Mike Kersten of Clovis recently went on his first tour of the house, after seeing "The Wolfe Show" online a number of times. Before entering, he was skeptical and curious as to what -- if anything -- he'd experience.
"I'm coming from the viewpoint that there's nothing in the house," he says. "It's just an empty house. What is Jen seeing that I'm not seeing? I just want to see if anything happens."
Paranormal experiences -- on the tour or on the show -- are not guaranteed. For those who experience them, those who believe in them, it's just the luck of the draw.
"It's not Disneyland," Dooms says.
But the curious tune in to the show or come for tours. Pam Reeves of Oregon recently visited with her daughters and took a tour. She has been a fan of the show from Day 1.
"It's great," Reeves says of The Wolfe Show. "There're others on the Internet, but 'The Wolfe Show'... It's just awesome. A lot of stuff happens."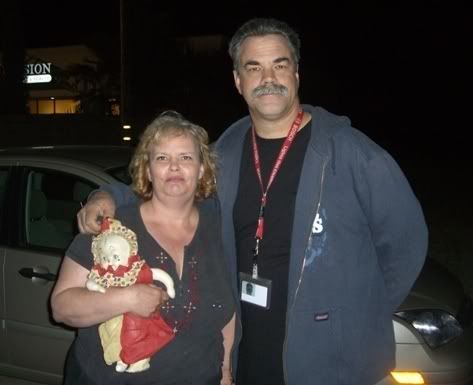 Pam Reeves (with "The Wolfe Show"'s Scott Gruenwald) has seen every episode of the Web show and came down from Oregon to tour the house.
The group says that they've had viewers from as far away as England and Australia tuning in to watch the weekly Webcast.
"It's live, it's local and it's an adventure," Wolfe says of the popularity of the tour and Web show. "It's trying to experience the unknown and try to have an experience of any sort. It's learning about what is going on in that house and how truly active it is."
"The house is well documented with having paranormal activity," Dooms says. "This is someone's chance to possibly experience something paranormal live from an authentic haunted house."
"I think it's amazing how people are always trying to find something to do in Fresno," Wolfe says. "These tours are opening up another venue for something to do. The Halloween attraction is no longer open, but the tours are open all year long."
The one-hour tours cost $15 per person with a minimum of six people per tour. For more information about the tour or the Web show, visit www.WolfeManorHotel.com or call (559) 307-4994. To contact the crew of the show, visit www.myspace.com/wolfeshow.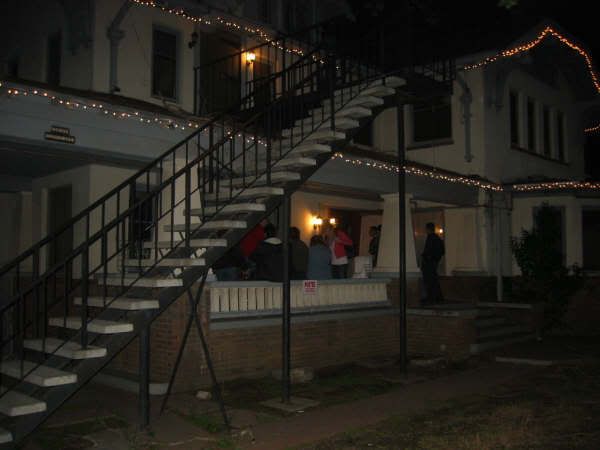 A group prepares to tour "Wolfe Manor."