Rock (and roll) lobsters
Mar

25

2009
It's been 30 years since college radio stations started blasting out wild dance tunes like "Rock Lobster," "Dance This Mess Around" and "52 Girls" from The B-52s' self-titled debut album. Since that time, the band has turned up great hits like "Private Idaho," "Song for a Future Generation," "Summer of Love," "Roam," "Cosmic Thing" and the mega smash played-at-every-high-school-dance-in-the-'90s "Love Shack." The band even turned up as the BC-52s in the prehistoric live-action comedy "The Flintsones" in 1994.
In March of last year, the band unleashed it's most recent album, "Funplex," which made its debut at No. 11 on the Billboard charts.
"It's loud, sexy rock and roll with the beat pumped up to hot pink," says guitarist Kieth Strickland on the band's Web site, www.theb52s.com.
"Funplex sounds like us, updated," says Fred Schneider, lead singer for the band. "It's the B-52s now — or 15 years from now."
http://www.youtube.com/watch?v=qfh4C0SFOy4
Bringing their outrageous party sound to Fresno for the first time, the band will be appearing at 8 p.m. April 2 at Table Mountain Casino. It's a sold-out show, so if you're looking check the classifieds.
Fresno Famous tracked down Schneider via MySpace and had a chance to ask him a few quick questions: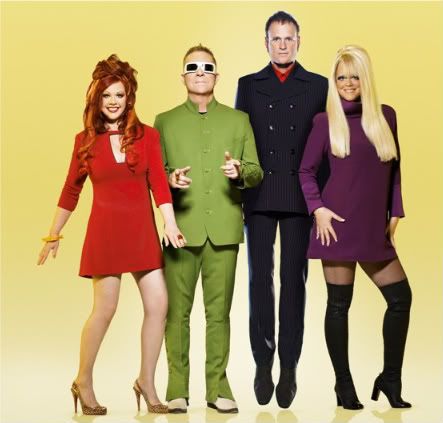 Photo by Joseph Cultice
What interview question are you asked the most and what answer do you give?
"What's my favorite B's song?" There's so many. Right now I'm partial to "Eyes Wide Open" and "Deviant Ingredient".
You guys have been shaking your cosmic things since 1976 and recording since 1979. How have you been able to stay relevant in the changing music scene over the last 30 years? How have the B-52s evolved?
We love music and we've always marched to a different bongo player. Everyone evolves with time. Some, like us, for the better.
I'm guessing that, since the first album, you've done "Rock Lobster" at every show and, since "Cosmic Thing," you've performed "Love Shack" at every show as well. How do you keep those tunes fresh and fun for yourselves instead of letting them get stale and monotonous?
We have a sense of humor and those songs aren't boring.
It's taken you 30 years to come to Fresno. Why haven't you played here before?
No idea. No one booked us.
The B-52s always seem to be on the road performing. You are off to South America not long after you hit Fresno, in fact. You've circled the globe several times. How much time do you get to spend at home? What is it like living out of a suitcase and hotel rooms so much of the time?
Well, the physical travel is the worst part of touring. I hate overnighters on the bus. But, this is my career. I'm home as much as possible and have lots of hobbies.
Your current home is in New York state. What is Fred Schneider — the homeowner like? You've mentioned shovelling snow and all of your backyard plantings being devoured by the deer in your MySpace blog (www.myspace.com/b52fredschneider). What are you like at home when you are not on tour?
Bitching about the deer and the snow. We tour spring to fall, so I get home to winter and find the deer still eating everything. By the way, I'm sort of a slob sometimes.
You've had two solo projects ("Fred Schneider and the Shake Society" in 1984, and "Just Fred" in 1996) as well as a new side-group project The Superions, which recently released its first single "Totally Nude Island." How did these projects come about?
I just have a lot of ideas to write about and find other outlets besides the B's.
There were 16 years between your last album, "Good Stuff," and your current CD, "Funplex." Is another album in the works and will we have to wait another 16 years to get it?
Next up is a remix CD of "Funplex."
The B-52s have been dancing and singing and groovin' for more than 30 years now. What is your secret to staying eternally hip and groovilicious?
I've been a vegetarian since the early '70s. I never think about age since I have the same nutty sense of humor I had when I was 10. And I go to the gym as much as possible, though I usually spend more time swapping dirty jokes with friends.
The band has always supported various causes. What causes are you interested in now? Why?
We've always been socially conscious and politically liberal. I support too many to name.
You've gone from the vinyl age to CD to digital. With "Funplex" and "Totally Nude Island," how has digital releasing (iTunes) been for you guys? Is your core audience (30s and up) getting it (the digital thing)? How has the newer stuff done?
"Funplex" was the fourth best-selling vinyl of last year (though nowhere near like the past). "Totally Nude Island" is doing great and the video by Tom Yaz is a hoot. www.youtube.com/watch?v=ZkpwhzVs3so
Are you at all surprised at the amazing longevity of The B-52s, considering that many of your contemporaries (DEVO, Blondie, Oingo Boingo, Talking Heads, etc.) are no longer around or as vibrant as The B-52s are at this point. What was your back-up plan had The B-52s crashed and burned after the first album? What would you be doing today if you weren't in a band?
I never had plans as I had never planned to be in a band. It's my career, and since I dropped out of college and have no marketable skills (anyone want a middle-aged model cheap?), I'm very fortunate.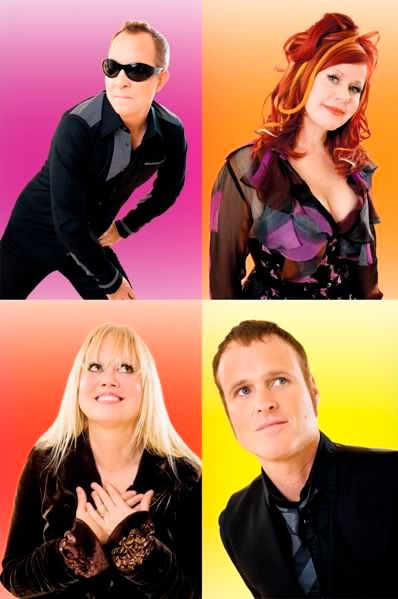 Photo by Pieter M van Hattem