More than writing on these walls
Jul

10

2008
You're standing in an alley by the back door of greasy Chinese place and next to a Laundromat. It's middle-of-the-day hot and there're trash cans and asphalt and dirt and you're thinking, this is so not how I want to see art.
Too bad. Because this is where the murals are.
It's not high art, but murals have their place, says Donovan Byrn, who heads up Creative Fresno's mural project, which helps pay artists to create work in and around downtown's cultural arts district.
Just by its very nature murals raise awareness of visual arts and add color and visual interest to what can be an otherwise drab cityscape. Because, alleys can be really ugly. Some murals are funded by community and arts group or are commissioned by building owners. Some are done on the artists' dime, just as a simple means of expression.
"Murals can help define a neighborhood, build a sense of pride and connection within the community," Byrn says.
"They feed the city's cultural soul."
Well said.
Now, if you'd like to feed some artists, you can go to Creative Fresno's Bartender Challenge from 6:30 to 10:30 p.m. July 15 at Palomino's, 805 E. Olive Ave., and tip well. All gratuituies for the night are donated to the mural project, which means artists can get paid to work.
Or, see what Byrn's talking about by taking a mural tour of your own. Here are some suggestions.
NOTE:Not all stops are part of Creative Fresno's mural project.
Downtown and the Cultural Arts District
* The Pearl Building — On Fulton Street, south of Divisadero Street

Starting at the Pearl seems fitting, seeing as it's the spot of some of the area's first murals, including a 20-by-100-foot piece on the back of the Econo Inn and the famous (pun intended) Marilyn mural, which was the iconic sign of "Life Below Belmont." Though it was painted over, new work just went up on the building's back wall.
* H Street and Vagabond Lofts — Broadway and H streets at Amador Street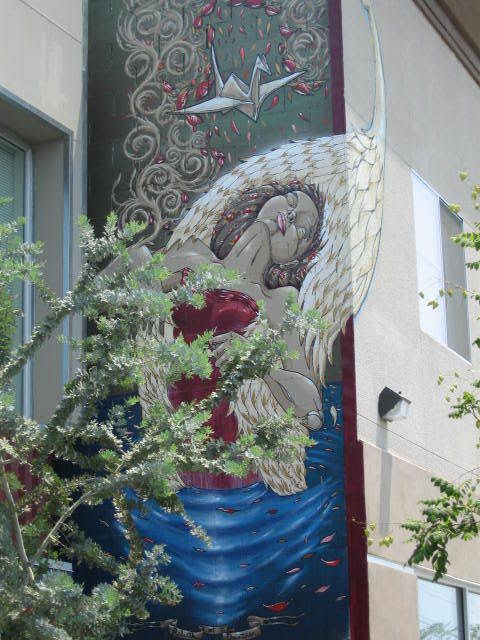 This one-block area features six pieces from artists Josh Wigger, Robert Amador and Jason Graham, including the 160-foot H Street Lofts mural that runs along Sacramento Street.
* Broadway Studios and the Cultural Arts Building — 1416 Broadway St.
Here, past and present converge. Three sides of this building are covered with art, including a fading "Cultural Arts District" mural. Amador is working to finish a mural that runs the length of the back wall.
* Yoshi Now! — 648 Broadway St.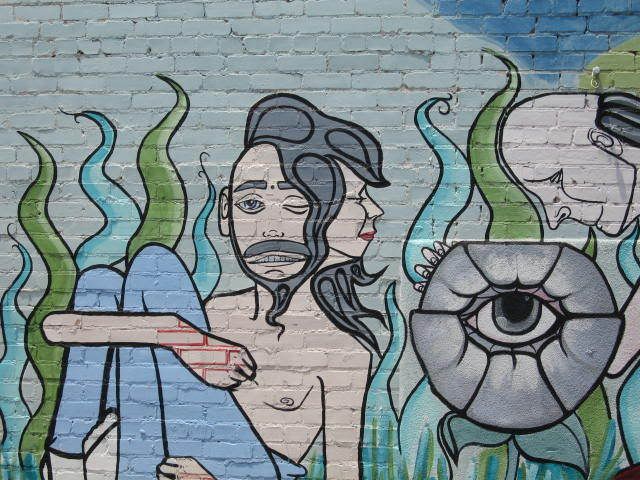 A little outside the cultural arts district, Yoshi Now! is always worth a stop, even if you miss the mural. Several pieces run across the front and side of the building, but the masterpiece is out back. But be warned, to really see it, you'll have to jump a chainlink fence. Which we don't condone — wink, wink.
The Tower District
* Audie's Olympic — 1426 N. Van Ness Ave.
A new Josh Wigger mural, and a nod to the club's name, we assume, recently popped up on the back of the old Club Fred building. It's too bad alleyways make such great canvases, because we'd love to see this from Van Ness Avenue.
* Food King — Corner of Maroa and Home avenues
Just down the road is this smallish mural on the side of a convenience store.
* Olive Avenue

The stretch of Olive Avenue from Wishon to Echo is mural central. There are pieces on the side of Palomino's, Sequoia Brewing Company and Irene's Cafe, along with smaller Wigger works on the Landmark and Teazer World Tea Market. The latest creation, created by the five-man Visual Love Art Collective, was just put up on the west side of Spinner's Records.