Touching Gunther's tra-la-la
Sep

23

2007
Champagne, glamour, sex and respect. That's the message being spread -- a la Euro-dance music -- by self-styled Swedish sex god Gunther. Along with his Sunshine Girls, he's on a mission for the advancement of lust on a global scale -- with tongue firmly planted in cheek.
If you are unfamiliar with Gunther and the Sunshine Girls, a quick search on youtube will cure that. Gunther, or the Pleasureman as he calls himself -- with his mullet, John Waters moustache, big sunglasses and perpetually puckered lips --would seem to be the antithesis of sexy...and that's part of the joke. The Sunshine Girls -- a seemingly interchangeable duo or sometimes trio of beautiful women -- can't seem to keep their hands off of him... or each other.`
Take upbeat energetic euro-rhythms and add a healthy dosage of goofy lyrics
and a bit of outrageously exaggerated sex appeal and you've got yourself a Gunther song.
Novelties they may be, but yet there is something surprisingly catchy about Gunther's music.
Gunther and the Sunshine Girls appeared in concert last Saturday at the Factory in San Francisco. Although he's played a handful of venues in the States in the past, this was the swinging Swede's first visit to the city by the bay and his fans turned out to see him.
Alexis Minsloff and Mike Kemling came up from Santa Cruz. Kemling says all of his friends are wild about Gunther.
"We saw the "Ding Dong Song" online," he says. "We thought it was a joke and then found out that it wasn't. We were totally stoked on it, so we saw the rest of the videos and we were fans after that."
Minsloff was also thrilled to see the mulleted musician. And what is it about Gunther that had drawn her all of the way to San Francisco? Was it his breathy and accented voice? His blatant machismo? His lanky, underdeveloped physique? Is he the irresistible stud muffin of her dreams?
"He's hilarious, yes," she says. "Sexy, no."
Alexis Minsloff and Mike Kemling came from Santa Cruz to see the Pleasureman.
Minsloff feelings were echoed by Sherida Rensch. Rensch was at the show to help celebrate a friend's birthday.
"He's funny and I love it," she says. "It's so totally my style."
Megan Hever, however, was a bit more enthusiastic.
"I've been waiting so long to see him in concert," she beams. "I love him. I like his style."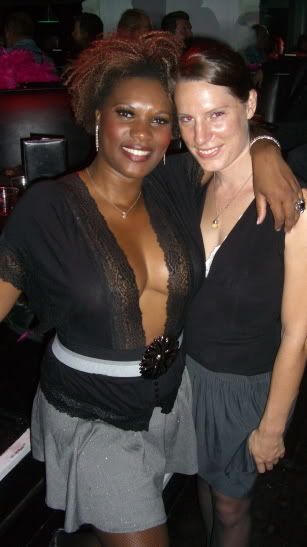 Sherida Rensch and Megan Hever enjoy the concert.
Oddly, the would-be Hugh Hefner of the pop music scene attracted more men than women, by about a two to one ratio. What was it about Gunther that inspired these college-age guys to come? Was it the fantasy this suave and Swedish playboy projected? Is there anyone more uber-cool than Gunther?
Ben Mjwaalands and his female companion who goes only by Mathielde arrived at the concert in a limousine, dressed so amazingly like Gunther and a Sunshine Girl they fooled many other fans in line. Both came to the show from Norway, via San Diego where they've been going to school.
"Beethoven, Mozart, Gunther... it's the same thing," Mjwaalands says. "They are all genius in some way. Gunther's way is a little radical, but still genius."
And what does Mathielde think of Gunther?
"I'm just a a Sunshine Girl," she says.
"The things you need to be a Sunshine Girl -- you need to be beautiful and you need an I.Q. below 90," Mjwaalands says, explaining Mathielde's lack of opinion.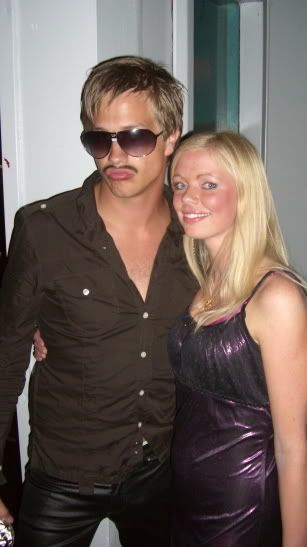 Ben Mjwaalands and Mathielde came dressed as Gunther and a Sunshine Girl all of the way from Norway.
Mjwaalands was not alone in dressing as his idol. There were several Gunther wanna-bes in attendance and a look-a-like contest was held. Mjwaalands, not surprisingly, won.
The concert lasted about an hour. Gunther and the Sunshine Girls entertained the enthusiastic crowd. They performed most of the songs from their videos and a few others. Gunther, dressed in a leather jacket, was rather sedate and kept his cool as the Sunshine Girls shimmied and shook their way through the energetic set.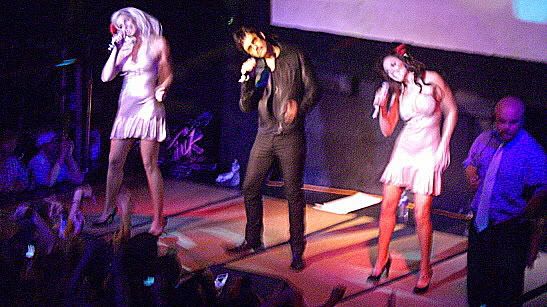 Gunther and the Sunshine Girls perform a little synchronized snake dancing to the "Ding Dong Song.".
The music was all pre-recorded and some suspected the group was lip-syncing. Gunther, in a pre-concert interview via email, didn't deny the accusation, but didn't confirm it either. "I always have my microphone on," he said. "I love the mic."
Lip-syncing or not, the audience really had a wild time and thoroughly enjoyed Gunther and the Sunshine Girls. Not bad for a group that has only had one album -- last year's "Pleasureman", which was originally released in Europe in 2004. Yet Gunther, whose real name is Mats Soderlund, is a master showman. Besides co-writing all of the songs and creating the whole Gunther persona, he's taken the Internet video revolution that is youtube, filled it with half a dozen videos and become a minor cult phenomenon.
"I'm humble to all of my success," he says. "I've been No. 1 a couple of times in different parts of Europe.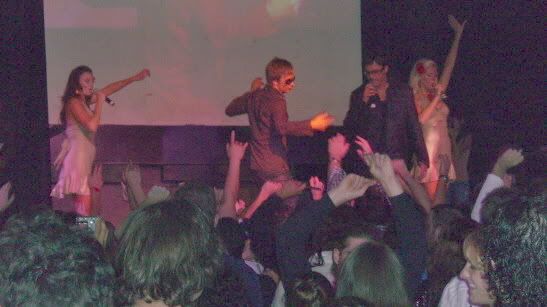 Look-a-like winner Mjwaalands, center, was invited to be apart of the encore on stage.
The videos, for those who have not experienced them, are simply fun. All feature scantily clad girls and guys frolicking about, with a little winking humor thrown in such as the cheesy head-and-shoulders jerking "Snake" dance that appears in almost every video. There's also a little deliberate sexual ambiguity and innuendo going on in them. Gunther is the object of lust of course, but there also seems to be hints of a gay subtext popping in here and there. Bits like a brief flash of full-frontal (albeit digitally obscured) male nudity in the "Tutti Frutti Summer Love" video or the suggestive spurt of sun lotion near Gunther's mouth in "Sunstrip" have raised a few amused eyebrows.
"I'm open minded," he says. "I'm straight, but have a lot of support in the gay community. I just thought I should say 'Hello. I know you're there' with those little flashes. That's the least I can do."
Despite the knowing-nods, the audience seemed to be a predominately heterosexual college crowd. After the show Gunther appeared in the club's upper lounge where VIP ticket buyers were able to meet and greet with him.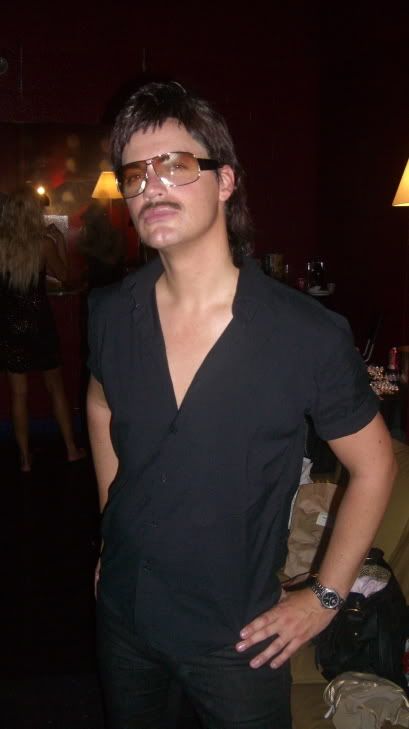 With the Sunshine Girls freshening up in the dressing rooms' background, Gunther prepares to meet his VIP fans after the show.
Gunther and the Sunshine Girls have been working on a new album in recent months. A new song, "Pussycat," was premiered at the concert. Two teasers, "My Boudoir" and "Obsession" can be heard at the Gunther Web site, www.gunthernet.com. The videos "Christmas Song (Ding Dong)" and the recently released "Suntrip" contain songs that are also candidates for the album as they didn't appear on the earlier release.
"It's all in the works and I also have some other ideas that I need to try out," Gunther says. "I'm sort of a perfectionist when it comes to my music. I really want to give my fans a great experience."
Gunther says he expects the new album to be ready sometime this winter. In the meantime, Gunther and the Sunshine Girls are heading for play dates in Europe before returning to the States for four more shows around the country, including a return performance in California somewhere. Gunther wouldn't announce exactly where in California, but the show is being prepped for about a month from now. Details will be posted at his Web site and his MySpace page, www.myspace.com/gunthermusic.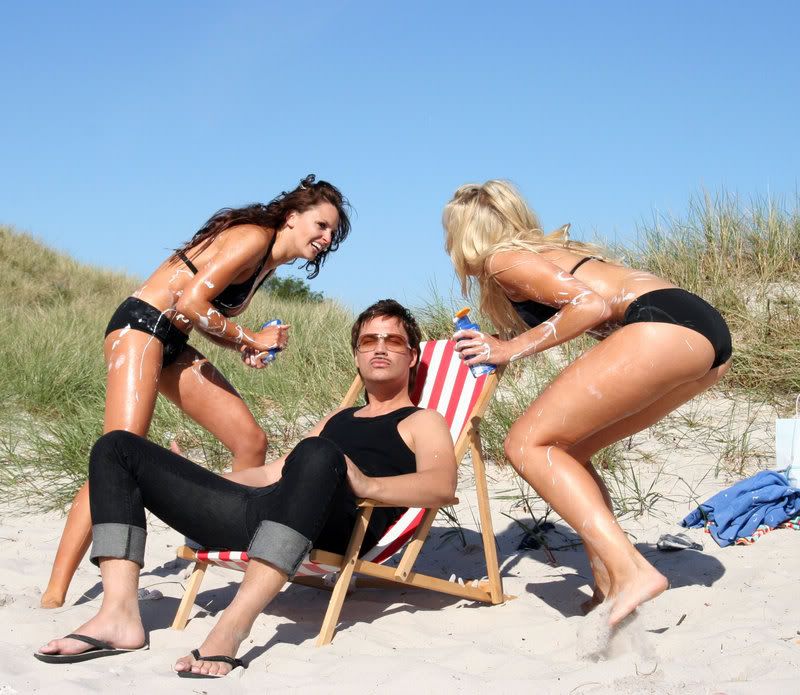 Gunther and the Sunshine Girls' new album is coming soon.