Ed Wood's laughably bad PLAN 9 FROM OUTER SPACE returns to the big screen for ONE NIGHT ONLY...and this time, it is in COLOR!
Sep

29

2009
It's not every film that can boast being re-released on the big screen 50 years after its initial release. "Gone With the Wind" and "Wizard of Oz" are a couple of classic films that come to mind. They're extraordinary films and they deserve to be seen again and again. But what about a cheesy black & white low-budget B-movie that has been called "the worst movie ever made"? Believe it or not, at 7:30 p.m. Oct. 8 at the Edwards Cinema, you can catch Ed Wood's imfamous masterpiece "Plan 9 From Outer Space" on the big screen!
"Plan 9 From Outer Space" is a micro-budgeted 1950's B-movie that hearlded itself as Bela Lugosi's last film. Lugosi, who died early on during the production of the film, only appears briefly in a few shots and is replaced by an obvious stand in (who is a good foot taller than Lugosi) who keeps his vampire-like cape up in front of his face the whole time. Cardboard tombstones, UFOs on visible strings and flimsily constructed sets add to the mind-numbing cheesiness of the movie. The movie seems almost cobbled together out of spare parts and whatever the director could beg, steal or borrow. For example, a police car inexplicably changes from a 1953 Ford to a 1957 Ford and then a 1956 Ford while en route to a cemetary -- traveling from night to day to night again. It all adds up into an unintentionally funny camp classic that has become a certified cult hit on home video.
Conrad Brooks is one of the two surviving actors from the film. Brooks, who was featured in several of Ed Wood's films such as "Glen or Glenda," "Bride of the Monster," and "Sinister Urge," and has followed in Wood's footsteps by becoming a director in his own right (his most recent production is called "Freaky Vampire"), isn't bothered by the films "worst movie" moniker.
"It was released," he says. "That's the important thing. Bad or good, it's made $40 million. How bad can it be?"
Brooks, who knew Wood well and says he was "good people," says the film was shot in only five days. Despite its obvious low budget, he says making the movie was a labor of love.
"Any time you worked for Ed Wood it was important," he says. "To me, it was a very important film."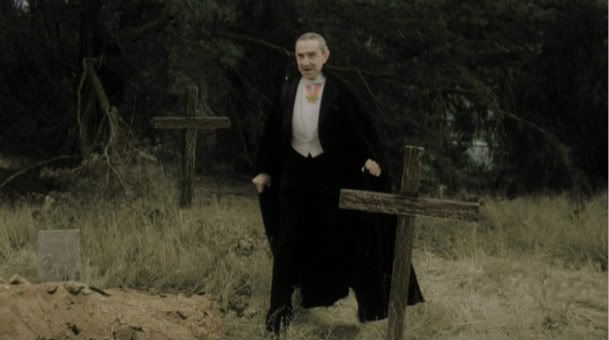 Although the film is billed as being Bela Lugosi's final film, he died during the first few days of production and Ed Wood's wife's chiropractor, Tom Mason, who was a foot taller than Lugosi, acted as Lugosi's stand in for the remainder of the movie.
"Plan 9 From Outer Space," which also stars Vampira and Tor Johnson, has etched out its own place in cinematic history and in pop culture. It has been referenced numerous times in TV and movies. There have been spoofs, musicals and even comic books based on it. Tim Burton's "Ed Wood," an ode to the ambitious director (that featured a cameo by Conrad), centers around the filmmaker's creation of "Plan 9 From Outer Space." A remake of the original film was announced on Sept. 9, 2009 (9-9-9, get it?) and is to be called simply "Plan 9." Brooks is listed in the cast on the Internet Movie DataBase listing, but he doubts it will come to pass.
"I wouldn't bet money on it," he says. "No one can make 'Plan 9' but Ed Wood."
For this special presentation of "Plan 9," the film has been colorized and will be presented in high definition and Cinema Surround Sound. But that's not all. This is a special encore presentation of a recent live theater-only broadcast features stars from "Mystery Science Theater 3000" who will proceed to shout out lines, or "riff," as they did on the old show as part of the new RiffTrax project.
"I'm glad this RiffTrax Encore gives people another chance to have a lot of laughs, see some great music and get some free stuff," says Michael J. Nelson, RiffTrax creator and former host and writer of the Emmy-nominated, Peabody Award-winning Mystery Science Theater 3000. "And if nothing else, they'll be awed by the majestic sight of Tor Johnson's neck folds."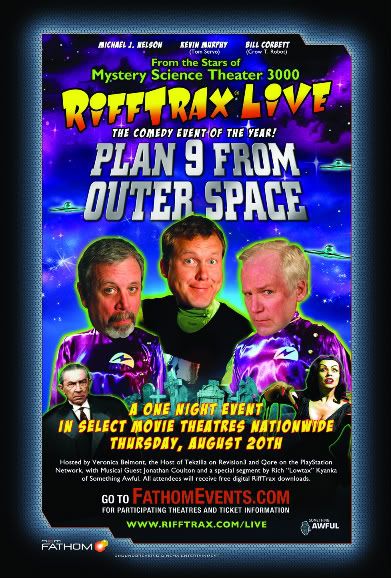 For one night only enjoy your chance to see "the worst film of all time" on the big screen, newly colorized and being riffed by the former stars of "Mystery Science Theater" in this special encore performance.
"The encore event showcases the talents of Nelson, as well as other former Mystery Science Theater 3000 members Kevin Murphy (Tom Servo) and Bill Corbett (Crow T. Robot) as they unleash their off-kilter zingers on 'Plan 9 from Outer Space'," says Michelle Portillo, manager, public relations and communications for National CineMedia. "The original live simulcast, performed in Nashville, Tenn. at The Belcourt Theatre, was presented in more than 430 movie theaters on Aug. 20th, with many locations selling-out across the country. The special encore presentation has been scheduled to meet the exceptionally high demand from fans to see the event."
The event is being called RiffTrax Live: Plan 9 from Outer Space ENCORE and is hosted by Veronica Belmont, co-host of Revisions3's tech-centric show, "Tekzilla" and host of "Qore" on the PlayStation Network, the event also includes a guest segment from Something Awful's Rich "Lowtax" Kyanka. Singer-songwriter and internet superstar Jonathan Coulton is the special musical guest.
As a bonus, all event attendees will receive free exclusive digital goodies including downloadable short film, an autographed digital photo of the RiffTrax guys, three songs by the RiffTones and an animated short of the failed Plans 1-8! A URL and code will be revealed on-screen at the end of the encore event.
"Who knew that the worst movie ever made would be so popular," Portillo says.
Tickets are available at the Edwards box office, www.FathomEvents.com and at all of the usual online venues.
Visit Conrad Brooks at www.conradbrooks.com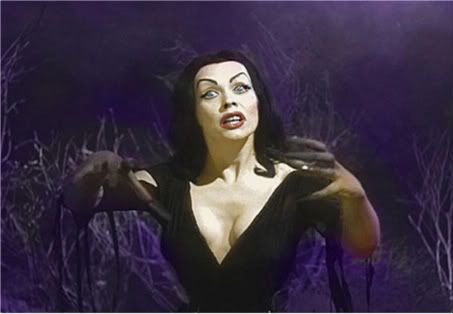 Although they have no scenes together and he died before she was even cast, famed 1950s TV horror hostess Vampira plays the undead wife of Bela Lugosi's character.