One-night-only chance to catch Celine Dion's "A New Day..." on the big screen
Dec

13

2007
Las Vegas is known for it's glitz, glamour and spectacle. The huge shows the casinos produce pack plenty of theatrical panache and draw people in by the thousands, with each new production trying to out perform the last. The record-breaking extravaganza "A New Day..." starring Celine Dion is coming to a close on Saturday, December 15, after five years at The Colosseum at Caesar's Palace. For those who never got a chance to see it or those wishing to enjoy one last performance, National CineMedia's FATHOM, along with Chrysler and AEG Network LIVE are presenting a one-night only event screening of "A New Day..." showing in more than 200 movie theaters nation wide this Monday night, December 17. Locally, it will be playing at the Edwards Theatre at 7:30 p.m.
Dion had already become a superstar when she signed to do "A New Day..." five years ago. "A New Day..." has catapulted her to near-legendary status. Her most recent album "Taking Chances" debuted last month and she embarks on a world tour commencing in Johannesburg, South America on Valentine's Day. Yet, her incredible show "A New Day..." is the production that all of Dion's future performances will be measured and compared to.
Maryann Garcia of Fresno has seen "A New Day..." twice. The first time was on her initial trip to Las Vegas. It was her boyfriend Jeff's birthday and they were both fans of the singer.
"We went the first year it opened," she says. "That was when my husband proposed to me. We went this last September for our four-year wedding anniversary. Her songs mean a lot to me."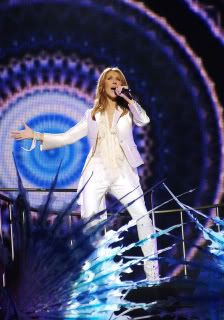 Celine Dion delivers an amazing performance in "A New Day..."
"A New Day..." was created by Franco Dragone, the man who brought Cirque de Soleil's "Mystere" and "O" to Las Vegas. "A New Day..." is a unique blend of concert, dance, theatre and multi-media that transports audiences to a virtual world of incredible energy and stunning special effects.
"The show is just amazing, even if you're not a Celine Dion fan," Garcia says. "All of the dancers, the choreography... They have a live orchestra and her voice is just amazing. It's unlike any show I've ever seen. It was really beautiful."
Although a DVD version of "A New Day..." will be hitting the stores on December 18, this one-time-only event will provide audiences the closest thing to experiencing the show live with the projection of the production on the huge movie screen so that it can be enjoyed in all of its splendor and pizazz.
"National CineMedia is proud to bring this incredible event to Celine Dion fans across the country following the finale of 'A New Day...'," says Dan Diamond, vice president of National CineMedia FATHOM. " 'A New Day...' is truly unlike any other concert or event. It's truly a theatrical that can only come out of Las Vegas. Fortunately for Celine Dion fans, they can experience all of this at their local movie theater."
"Performing at Caesar's Palace the past five years has been an incredibly rewarding experience," Dion says. "I'm thrilled that fans have another chance to see this remarkable show in their local movie theater."
Details: www.ncm.com/Fathom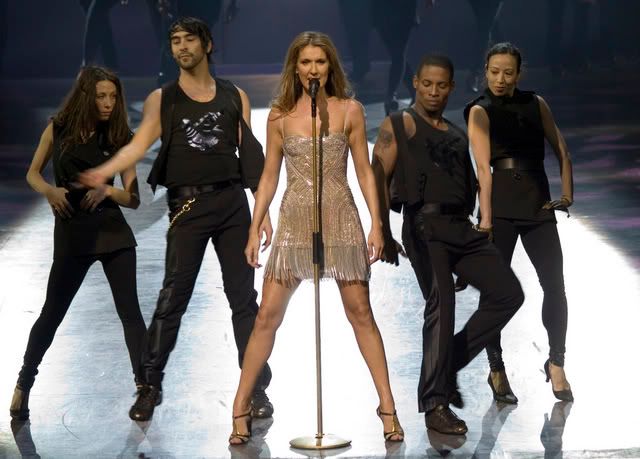 Theater-goers will have a chance to experience "A New Day..." on the big screen at 7:30 p.m. this Monday night.